AVENUE project at the Ceremonial Start of 2012 WRC Acropolis Rally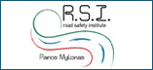 Under the sound of the WRC racing cars' engines in front of Zappion Conference center in Athens, the staff of RSI "Panos Mylonas" and fifteen volunteers were present for the Ceremonial Start of the 58th Acropolis Rally of the 2012 World Rally Championship (WRC). RSI was there, to educate and sensitize road users who share their passion for racing with the use of AVENUE project's Mobile NEST and road safety equipment.

The presence of the Institute was mostly successful as more than a thousand spectators were informed on road safety issues in multiple ways: by participating in AVENUE's experiential activities, by discussing with the personnel and and volunteers of the RSI, by discussing the disseminating issues of Drink Driving, Courtesy on the road, Protection of Children in car, Youth and Road Safety.

Of particular value was the fact that many visitors were young people – drivers which were mostly involved in road incidents - and parents with their children who discussed all the common issues that they face each day.

Car races are an important area for testing and implementation of safety systems, many of which are used into everyday vehicles, by improving the level of safety for all road users. It is indeed of great value the fact that racing drivers which are role models for young people are supporting road safety messages and always encourage everyday road users to endorse safety, respect the rules and always stay in control.


---