13th European Transport Safety Lecture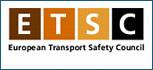 Zappio Conference and Exhibition Centre, November 7th 2011, Athens, GREECE

The European Transport Safety Council together with the Road Safety Institute Panos Mylonas organised the 13th European Transport Safety Lecture on "Distracted Driving", which took place in Athens, in November 7th, 2011. The lecture will be delivered by Associate Professor George Yannis, NTUA, with a response by Prof. Oliver Carsten of the Institute for Transport Studies at the University of Leeds. Driver distraction is an important factor driving up the risk of road collisions worldwide. Researchers claim that some source of driver distraction is reported in up to 30% of road accidents.

---